Wine, Women, & Song 2013
Wine, Women & Song on Facebook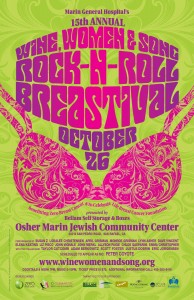 Marin General Hospital's 15th Annual Wine, Women & Song:
"Rock-n-Roll Breastival"
Saturday, October 26, 2013
Doors at 6:30
Cocktails & Nosh: 7-8pm
The SHOW: 8-10pm
Tickets are $75
Osher Marin Jewish Community Center
200 North San Pedro Rd., San Rafael, CA 94903
Scheduled to appear actor, director and narrator, Peter Coyote as our MC! Thirteen singers and a six piece band will perform songs by artists who've had breast cancer, such as: Melissa Etheridge, Sheryl Crow, Carly Simon, Nanci Griffith, Beth Nielsen Chapman, Dusty Springfield, Skeeter Davis, Syreeta Wright and KISS!!! You'll hear music from the 60s to today!
Come see some of your favorite Bay Area stars, volunteering their talent to support a great cause, including: Susan Z, Liz Pisco, Lynn Asher, Loralee Christensen, John Merkl,  April Grisman, Monroe Grisman, Elena Keating, John Vignale, Allyson Paige, David Vincent, Emma Christopher, Chloe Gasparini, Adam Berkowitz, Scott Foster, Eric Jorgensen, Jamison Smeltz, Justus Dobrin and Taylor Cutcomb.
Local singer/songwriter/actor, Susan Z, has been producing benefit concerts since 1998. Her mother is a two-time breast cancer survivor, which is why this cause is dear to her heart. Proceeds go to local breast cancer agencies, Zero Breast Cancer, and To Celebrate Life Foundation.
THANK YOU: This year our event is being generously sponsored by Marin General Hospital (Title Sponsor), Bellam Self-Storage and Boxes (Presenting Sponsor), and The Harbor Point Charitable Foundation.
CANCER SUCKS! COMMUNITY RULES! MUSIC HEALS!
Volunteers: Volunteers are angels. There isn't that much to do, so don't recoil at the thought. I need help at the gigs with things like: the raffle, a door person, someone to time the acts to keep things moving smoothly, speakers to talk about their experience with cancer, hanging flyers or posters, and whatever arises. If you think you want to be a part of this expanding organization, for one night or many, email me: susan.zelinsky@comcast.net